Alemite Lubrication Tools and Equipment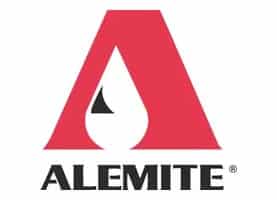 Jack Rich Products
---
Jack Rich Brands
Can't Find It On-Line?
Call Us at 570-622-3000 or Email Us
.
Our List of Products is Large and May Not Be On Display.
Alemite Lubrication Tools and Equipment
Alemite was founded in 1918 and has been a leading provider of lubrication tools and equipment since then..
Alemite has earned the reputation as a leader in high performance, high quality lubrication and fluid handling systems.
A worldwide provider of lubrication and fluid handling systems and equipment, The Alemite brand continues to expand their line of fluid management controls, pumps, reels, meters, fittings and grease guns. Encouraging customer input regarding product development, Alemite's knowledgeable technical and support staff strive for continuous improvement.
New Fluid Solenoid Valves and Pulse Meter Kits for AFCS Fluid Management System – These kits facilitate quick and easy installation of Alemite fluid solenoid valve and pulse meter into a fluid inventory control and management system.
Heavy-Duty Clear Grease Gun Tube – Lets you see exactly what type of grease is in the cartridge, providing confidence that you are using the specified lubricant for the job.
Reel Mounting System Provides Safety and Convenience – For use with Alemite Heavy-Duty Hose Reels. The system utilizes a channel and bracket for safe, convenient and easy installation.
Reel Mount Adapter – Facilitates the replacement of Lincoln heavy-duty fluid (LFR) reels with Alemite heavy-duty or severe-duty hose reels.