Pennsylvania Lubricant Delivery – MD, DE, NY, NJ Areas Served
Jack Rich provides quality lubricants, oils, greases and fluids throughout eastern Pennsylvania and beyond.
We Deliver to Philadelphia, PA – Lubes, Oils, Grease and Specialty Fluids.
Lubricant Delivery to You – Oils, Grease & Specialty Fluids – Since 1952
Call Us at 570-622-3000 With Questions Regarding Deliveries / Areas Served – And More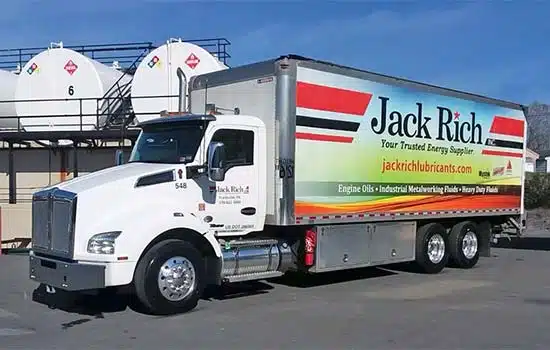 Harrisburg / Hershey
Lancaster County
Schuylkill County
Bucks County
Lehigh Valley
Philadelphia
Allentown
Easton
Bethlehem
Pottsville
Levittown
Willow Grove
Cecil County, MD
Harford County, MD
Trenton, NJ
Scranton
Pottstown
Reading
West Chester
King of Prussia
SERVICE – DEPENDABILITY – QUALITY
Make Jack Rich Lubricants part of your planning and supply chain.
Industrial & Automotive Lubes, Grease, Oils, Specialty Fluids – When You Need Them and How You Need Them
---
Pennsylvania Lubricant Products and Delivery You Can Count On
We Understand Heavy Equipment, Industrial and Automotive Needs.
Jack Rich Invites Your Inquiry – 570-622-3000 .
Our Specialist Will Help You Evaluate Your Machinery and Lubrication Needs
We deliver eastern Pennsylvania and areas of north Maryland, New Jersey, Delaware and New York
Quality lubricants, greases, oils and fluids suited to a wide variety of applications.
Can't Find It On-Line?
Call Us at 570-622-3000 or Email Us
.
Our List of Products is Large and May Not Be On Display.
We are a CITGO Vektor Partner and distributor of CITGO and Mystik lubricants.
Jack Rich Lubricants is a family-owned business and has been servicing the needs of large and small companies for more than a half-century.