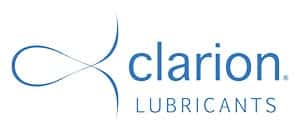 Jack Rich Products
---
Jack Rich Brands
Can't Find It On-Line?
Call Us at 570-622-3000 or Email Us
.
Our List of Products is Large and May Not Be On Display.
Clarion Food Grade Lubricants includes white mineral oils, hydraulic fluids, greases, synthetics and specialty lubricants.
For more than 40 years, Clarion Lubricants has delivered one of the industry's broadest line of safe, protective lubricants, including food grade, food grade NSF/ANSI Standards 60 and 61 certified, environmental and synthetic grade formulations that contribute to a more sustainable future.
This line is widely used in a variety of food processing operations as well as the manufacturing of drugs and cosmetics. These lubricants meet the most stringent standards of purity and performance and can be categorized into two groups:
NSF 3H registered products used for applications where the purity of the oil is paramount due to the possibility of direct contact with food for human consumption.
NSF H+1 registered products used for processing and packaging machinery where the possibility of incidental contact with food product exists.